How to Register - Synchronized Skating Events
The person registering the team should be the same person registering the team for all events. We suggest the team manager for each team do this so that participants only need to be added to one account.
To create an account:
Click on "Login" in the top right hand corner

Create your account with a valid email address and a password
Before you start, you will need the following information for every skater that you would like to add to your team registration:
First & Last Name (be sure to have correct spellings)

Gender

Birthdate

Skate Canada number
To quickly add all of your skaters at once beside the "Add New Participant" link, you can import your participants. Once logged in:
Click on "My Account" in the top right corner

Click on "Competitors" in the sub-menu

Click on "Competitor Import"

On the next page, click on "Get Import Template". This will download an excel file to use to enter your competitor information.

Once you have downloaded the Import Template, complete the information for all skaters that will be registering on your team. All columns must be completed for each skater except the Participant Since, Instructor and SKU columns. For the Section column, please use the following format:
| | |
| --- | --- |
| Alberta-NWT/Nunavut | AB/NT/NU |
| British Columbia/Yukon | BC/YK |
| Manitoba | MB |
| New Brunswick | NB |
| Newfoundland | NL |
| Nova Scotia | NS |
| Ontario | ON |
| Prince Edward Island | PE |
| Quebec | QC |
| Saskatchewan | SK |
Save the file on your computer.

Back on the registration site on the Competitor Import page, click "Choose File" to select the Import Template you just completed, then click "Upload".

You will see a spreadsheet view of all skaters you imported from the file. Review for accuracy to ensure that all birthdates and details have been imported correctly. For the most accurate results, ensure that birthdates are entered in the form of "YYYY-MM-DD". You can update any details that were inaccurately imported directly in this page.

Click "Import Data".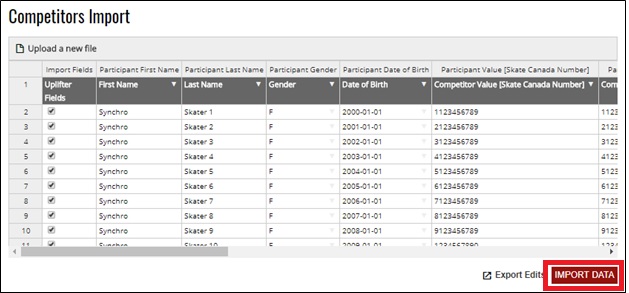 On the next page, any skaters that do not already have a personal profile will be imported to your account. Any skaters that have an existing personal profile will have a "Select" button appear beside their name.
Clicking on select will give you the following screen: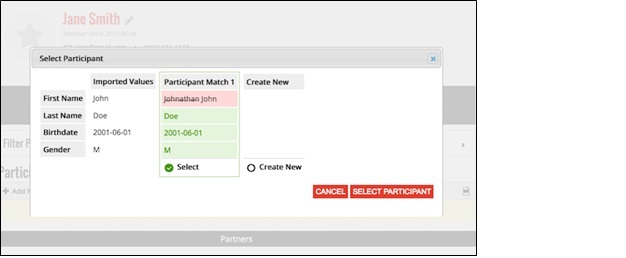 Compare the values you have on file to those for the suggested match. If the competitors match, click "Select" and then "Select Participant". If they do not match, click "Create New" and then "Select Participant".

Once you have completed this for all skaters in your spreadsheet view, click on "Import Data" again. This will load all skaters into your Competitors.

Note: If you receive the error "Another skater has the value XXXX for Skate Canada Number. This value must be unique.", proceed with creating the skater profile, leaving the Skate Canada Number blank. Please contact skateabreg@gmail.com to notify them of the error so the skater's profile can be corrected as needed.
You are now ready to register your team for competition!
To Register your Team:
Click on the competition you want to register for from the main registration page.

Select the event category you would like to register for and click "Register"

Select all of the skaters for your team from the competitor list. Be sure to include any alternate skaters. There are minimum participants set in the system as per the Skate Canada requirements. You will not be able to continue until this requirement has been met.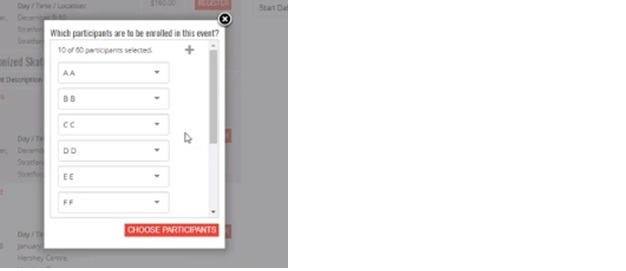 Once you have selected all of the participants, click on "Choose Participants", this will add your team to your Shopping Cart.

Click on your Shopping Cart in the top right hand corner to proceed to Check Out.

In the Check Out page, you will be asked to enter the Team Manager, Team Coach, Team Name, and Team Skate Canada Number (if applicable). This will also show the summary of fees for the team, skater fees are charged based on the participants you selected.

Confirm the events and skater details in your shopping cart. If the events are correct, click "Confirm & Register".

Click on any policies that require your agreement - Click on each link, read the policies and click "Accept".

Once each policy has been accepted, click "Pay by Credit Card", this will bring you to the payment page. Once payment has been processed, the Registration Invoice receipt screen will appear. You will also receive a copy of this by email.
For any questions, or any updates required to your registration, please contact skateabreg@gmail.com. We will be able to update profiles, add, remove or change skaters, and change or update anything regarding your registration.